BRENTSIDE ALUMNI SHARE THEIR SUCCESS STORIES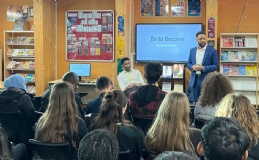 How do we know that we are a successful school?
One way is by keeping in touch with our alumni students and hearing first hand how Brentside supported and motivated them to become the successes they are today.
We were delighted that Suley Muhidin (a multi-award winning engagement lead, specialising in communication, projects and leadership) and Kalu Onwuka (a Cambridge University graduate, now working as a trader for JP Morgan) agreed to visit us. They delivered a workshop on their career journeys and the importance of being disciplined, dedicated and seizing opportunities to achieve success. Our students left inspired and motivated to aim high.