FRIENDS@BRENTSIDE NEWS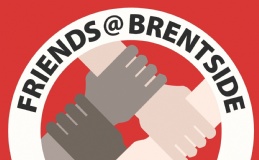 Friends at Brentside were delighted to raise over £200 for our students at the two evening performances of Bugsy Malone before half term.
A huge thank you to all our wonderful helpers and customers!
We will be holding a second-hand uniform sale on Friday, 24 March after school, so if you have any uniform you're happy to donate, please drop them off at the school office, clean and in a plastic bag, labelled 'Donation for F@B'.
Don't forget you can support F@B by choosing us as your Co-op community cause: https://membership.coop.co.uk/causes/74973. Raise money every time you purchase Co-op branded products and services at no extra cost to you.
You can also raise money for F@B every time you shop online through Easyfundraising, again at no extra cost to you. Choose from over 7,000 brands at www.easyfundraising.org.uk/causes/friendsatbrentside.
We always welcome more volunteers, so if you're able to help in any way, we'd love to hear from you at hello@friendsatbrentside.org.uk.