HARROW SCHOOL CAREERS CONVENTION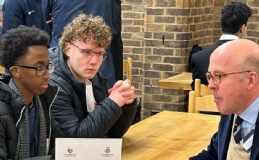 Our Sixth Formers were invited to attend a prestigious careers convention at our partner school: Harrow School for Boys, Harrow on the Hill.
The format of the convention had careers representatives sitting around the open-plan Dining Hall and engaging with students about careers that interest them. A wide range of industries and careers were championed by leaders in their field including investment management, aviation, cyber security, fashion design, architecture, medicine, law, marketing and advertising. Students found the event motivational and inspiring as they could target conversations with employers that linked to their own areas of interest.