Year Eleven Inspire Programme Visit Day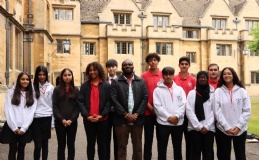 On 5 July, eleven students in the Brentside High School Inspire Programme attended a trip to St John's College, Oxford.
The day was organised as a students' conference and as part of the culmination of the 3 year pilot programme.
Students attended lectures delivered by Oxford University staff on why attend Oxford, the Oxford experience and how to apply to Oxford.
Students went on a tour of St John's College, including a visit to the junior common room, student accommodation/halls, Ashmolean Museum and the Bodleian libraries.
Students also got the opportunity to contribute short videos about their Inspire experience and photos to the SJC INSPIRE website.
Thanks to Mr Addo who led students throughout the programme. What a fantastic opportunity!