Exam Results
Congratulations to our Year 11 Class of 2022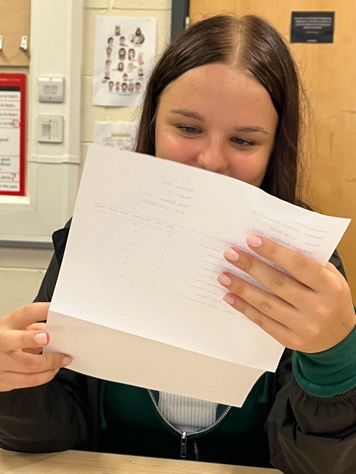 We are incredibly proud of our Year 11 students and congratulate them on the fantastic examination results they received today. These really do reflect the exceptional progress our students have made, as well as the resilience, commitment, and determination with which they have approached their studies, despite the challenges posed by the global pandemic.
Almost half of our students achieved one or more 7-9 grades (A/A*) and 21 of our young people achieved between 9 and 12 of these top grades each. Success is of course relative to each individual, and we celebrate every young person's achievement across the grade spectrum; you worked so hard, and you should all be proud of what you have achieved.
Today's results look set to continue Brentside's unbroken 10-year run of our Year 11 students making significantly better progress than that made nationally. Our students' success also led to a very busy Sixth Form enrolment day today and we enjoyed the buzz of excitement and the chatter around course choices to be heard around the school building.
Charlotte Hames, Headteacher, said, "I am delighted for our students and so proud of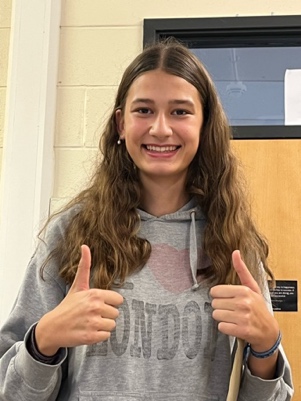 them. These achievements would not have been possible without the hard work, talent and determination of our wonderful young people. I would also like to thank our parents and carers for working in partnership with the school over the years, and our dedicated and skilled staff, who have supported, guided, inspired and academically challenged our students on their journey to success."
To our students, we look forward to welcoming you back in September as you embark on your Sixth Form courses, with all the excitement that comes from specialising in the subjects you are most passionate about and from the increased independence and supported challenge that Sixth Form life brings. We are confident that you will go on to mirror this year's outstanding A Level and BTEC results, which are yet again in line with the top 10% in the country for student progress (click here to learn more). We know that you will flourish through the additional opportunities that our students access at Brentside, alongside their chosen courses. To those of you who are moving on to specialise in a college vocational course, apprenticeship or training programme, we wish you the very best for the future and look forward to hearing of your success.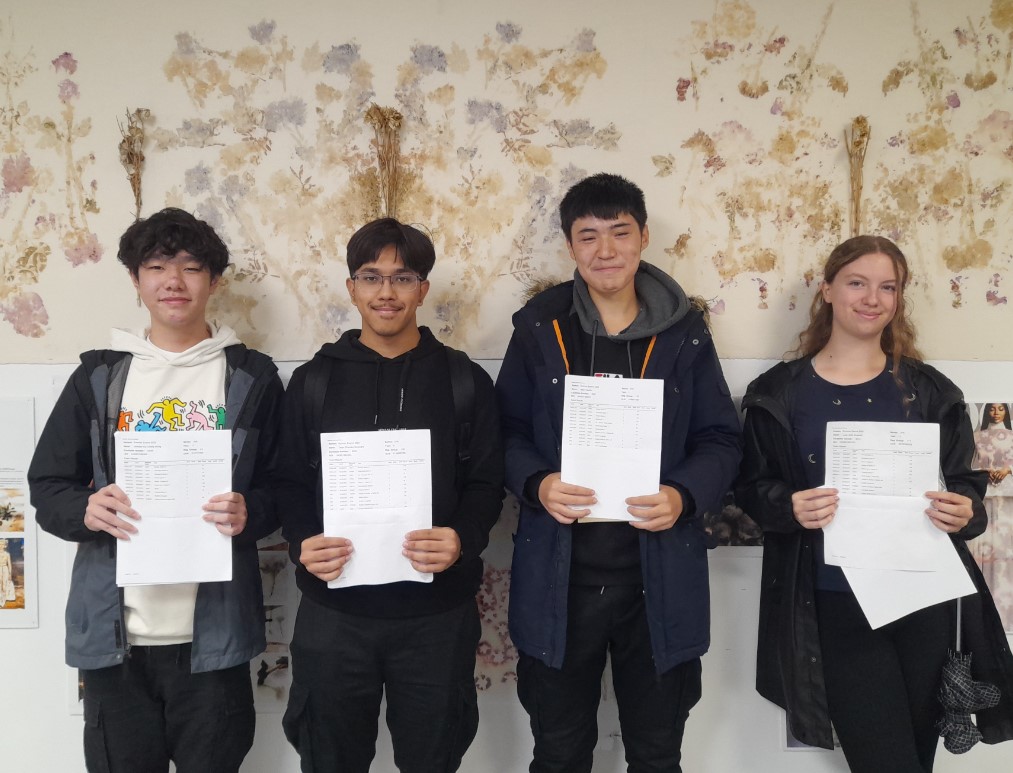 Sixth Form Celebrate Success at Brentside
We are delighted to congratulate Brentside High School's Year 13 students on their exceptional examination results. Today's results reflect the resilience and determination with which students have responded to the challenges and uncertainty created by the pandemic and reward the excellent progress they have made throughout their courses.
Progress and attainment are strong across both A Levels and the vocational BTEC qualifications. As examples of this, 27% of all A Level grades were A*/A and 69% were A*-B. In the vocational courses, 65% of all grades were Distinction*/Distinction and 89% Distinction* - Merit. An impressive 68% of our students achieved at least one of these top grades.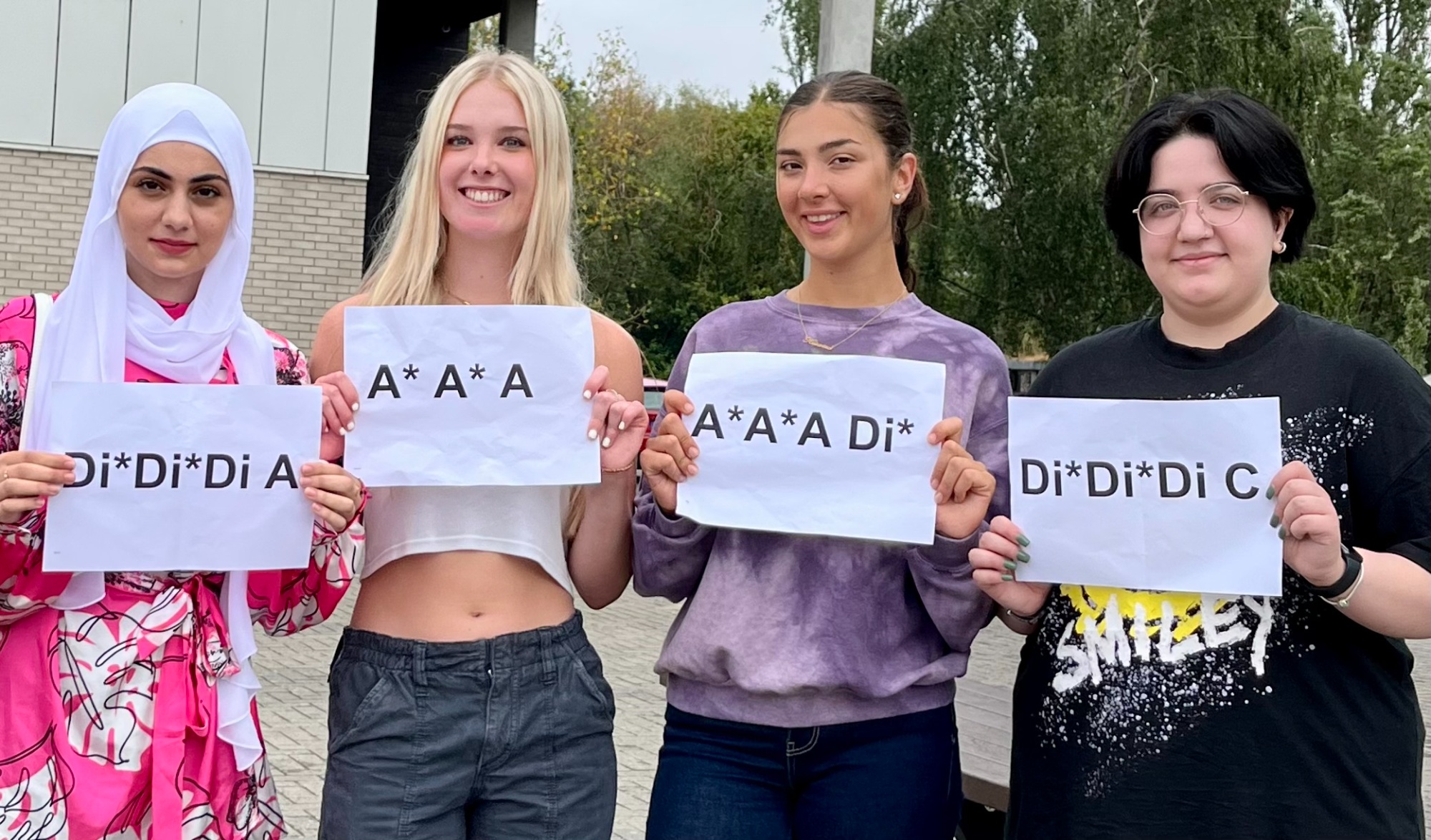 Dr Julia Bosher, Head of Sixth Form, said "Congratulations to all our students who have worked so hard to achieve the results they have and to give themselves the opportunity to progress onto their chosen pathway."
Hider Mahdi, Assistant Headteacher, said "This year's results have once again reinforced our track record of outstanding student progress. This year's grades again place Brentside High School in the top 10% of schools nationally and in turn we celebrate another year of superb destinations. I would like to publicly acknowledge and thank our highly invested staff and families for supporting our students to achieve these exceptional results and excellent progression routes."
Examples of the many individual success stories are: Lewis (A*A*A*AA), Vihaan (A*A*A*AA), Kacper (A*A*AA), Spike (A*A*AB), Ryan (A*A*A), Jessica (A*A*A), Gracie (AAAAA), Rachel (A*AAB), Katarina (A*A*A Di*), Mehrnoosh (A*ABBB), Sara (A*ABC), Ricky (A*ABB), Anna (AAAB), Maja (AABB), Habib (AABC), Mustafa (Di*Di*Di* C), Elliott (A*AAB), Maria (Di*Di*DiA), Maksyma (Di*Di*Di), Keliyah (Di*Di*Di B), Sukhvir (Di Di Di AA), Sharmi (DI*Di*Di C), Ivon (A*B Di*Di) and Melina (Di*Di*Di C).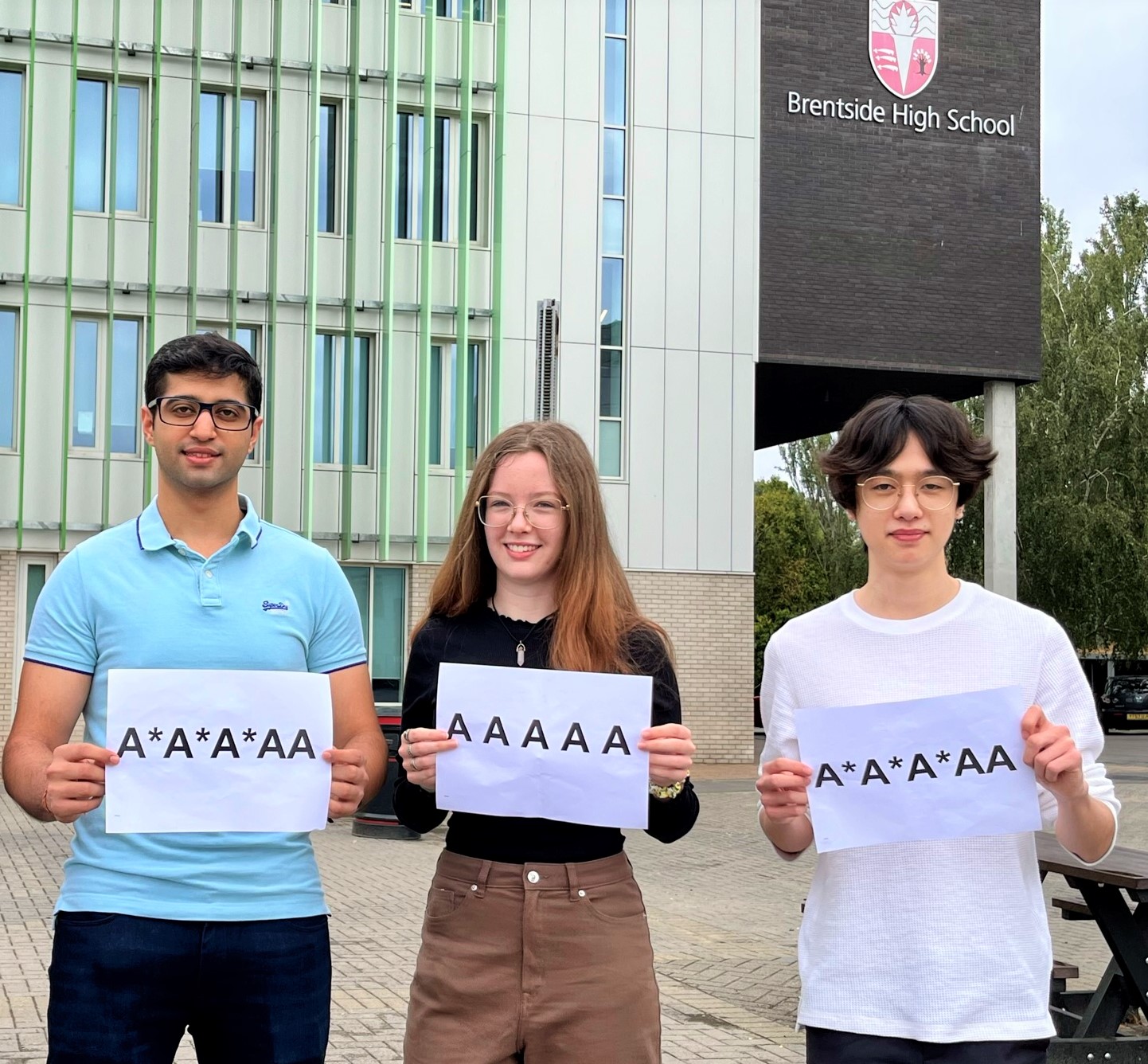 Charlotte Hames, Headteacher, said, "It is incredibly inspiring to see our students achieve the grades that they have worked so hard for and that they deserve. These grades reflect exceptional achievement, against a backdrop of the global pandemic and its impacts. We are proud of ALL of our Year 13 students and thank those who have guided and supported them. Well done to our Class of 2022."
Students are excited to be continuing their learning in their chosen areas of interest, examples of which include:
Classical Studies with English, Computer Science with AI at Kings College London; Computer Science at University of Bath; History, Biology (with a year abroad), Marketing & Management, Aerospace Engineering (with an industrial placement), Electrical and Electronic Engineering, Politics & International Relations at Queen Mary London; Law at University of Leicester; Philosophy at University of Nottingham; Physics (with a year abroad), Environmental Geography, University of York; Mathematics & Physics, Automotive Engineering at Loughborough University; Economics, Law at City, University of London; Marketing Communications with Digital Marketing, Sport Management, Accounting and Finance at Bournemouth University; Aerospace Engineering, Environmental Sciences (with placement) at Brunel University London; Architecture, Chemistry, Pharmacy, Aerospace Engineering (Space Technology) at Kingston University; Psychology at Leeds Beckett University; Fine Art, Primary Education (QTS) at Middlesex University; Marketing and Management at Newcastle University; Law, Economics (with a year in business), Management with Human Resources, Biology (with a year in industry) at Royal Holloway University, London; Biomedical Science at University of Plymouth; Business, Management, Economics and Law at SOAS; Geography at University of East Anglia; Mechatronics and Robotics at University of Leeds; Design for Theatre and Screen at University for the Creative Arts; Business Management (with placement) at University of Southampton; Business Management and Finance, Marketing at University of Roehampton; Social Media and Digital Marketing Apprenticeship with Intuition IT; Civil Engineering Apprenticeship with HS2 and Cybersecurity Apprenticeship with IT Solutions.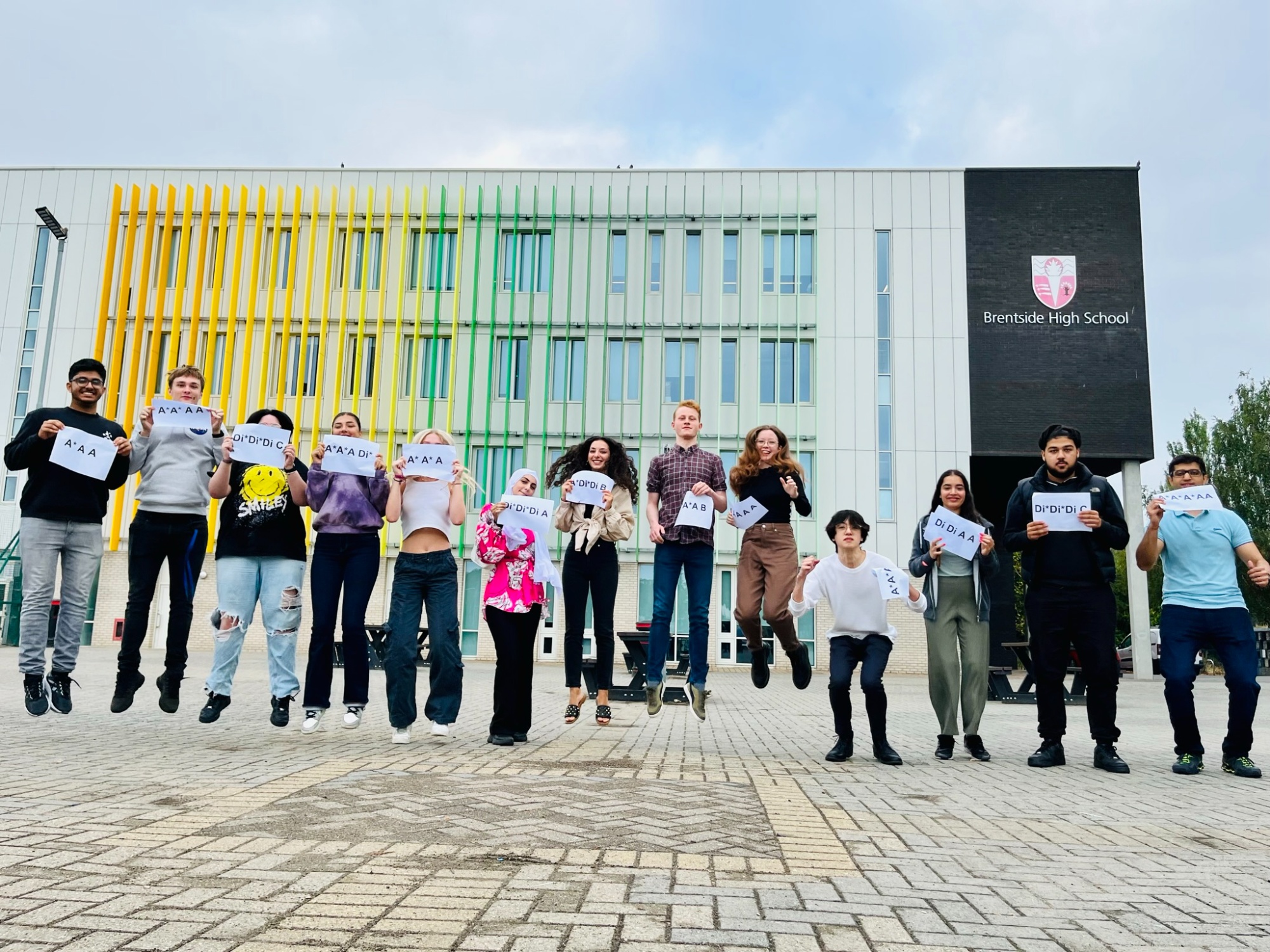 Click on the link to see the Department for Education Performance Tables.
Summer 2022 Results
Guides, Information and podcasts for students and parents:
Understanding results and grades: a guide for students, parents and carers (pearson.com)
Exam results 2022: 10 things to know about GCSE, AS and A level grades - The Ofqual blog
Ofqual Podcast: Reliability of exam marking - YouTube
BTEC FAQs 2021-2022 | Pearson qualifications
AQA | Student and parent support | Results day
Click here for information on Reviews of Results
For any enquiries regarding exam results please use the following email address: examenquiries@brentsidehigh.ealing.sch.uk